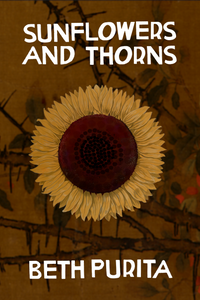 Poetry, chapbook, 40 pages, from Bottlecap Features.
The poetry you hold in your hands is a gentle reminder that you are never alone. It touches on heartbreak, what it is like living with mental illness, and the scars that love can leave.

Sunflowers and Thorns takes the reader on a journey through the darkest parts of being human. The thirty-six poems explore what it is like to live with an anxious ridden heart and an uncontrollable mind and the effects this has on those closest to you.
Beth Purita is a New York poet and writer. She is the author of the chapbook, I Hope This Reaches You and the full-length poetry book, Everyone Loves a Dead Poet but I'm Not Dead Yet. She has been published in several editions of poetry by Dreich Magazine and Press and has built an active and organic following on her Instagram (@blankpagewriter), where she shares her poetry and has been featured on a number of poetry pages. When she is not busy procrastinating, she likes to travel and spend time with her cat, Drew, and dog, Dakota.