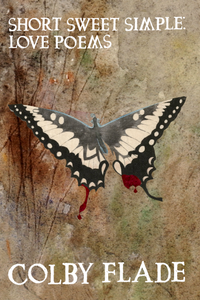 Poetry, chapbook, 44 pages, from Bottlecap Features.
Short Sweet Simple: Love Poems is exactly that… a collection of short, sweet, and simple love poetry. Written in under twenty-four hours in the dead of winter last year, this debut poetry chapbook by queer poet, Colby Flade, sheds a unique light on a feeling most of us are familiar with: love.
Though brief, the entrancing verses that reside within the pages of this work aim to resonate with every being who chooses to ingest them.
Some may seem sad.
Some may seem happy.
Some may seem like they are not even about love.
But they are.
Because love is sad.
Love is happy.
Love is everything, and nothing.
Love is good… except for when it's not.
So these poems are about love, despite the few melancholic ones.

Bad love, sad love, good love, love for others, love for yourself, loss of love… however you interpret this book, whatever you make of it, the most important thing to know is that you are loved, always… that is the only thing that matters.
Colby Flade (he/him) is a queer writer, artist, avid drinker of coffee, and student. He is the self-published author of The Smell of the Light Blue House in Summertime (2021) and Menthol (2022). His work has been featured in the Oyez Review (volume 49), at the 2021 Whitewater Storytelling Festival, and on All About Healing with host Emily A. Francis. Colby's work is available on Amazon & Etsy, at This Old Book in Grayslake, Illinois, and The Book Teller bookstore in Whitewater, Wisconsin. He currently resides in Northern Illinois. Find him on Instagram @theflade