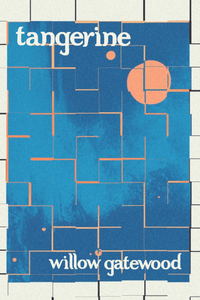 Poetry, chapbook, 32 pages, from Bottlecap Features.
tangerine is a collection of poems drifting through muddy tides of grief, loneliness, and renewal that accompany living with chronic illness through childhood and adolescence. It merges the poet's experience with forced confinement, both indoors and within the body, with an autobiographical exploration of the natural world that gifts a taste of freedom and solace.

During their most recent and intense hospitalization, the poet grew obsessed with colors of the sun — citrusy, lemon, orange — the only colors that occasionally flooded the ceiling of a sterile room from an outside world they couldn't see. tangerine ponders the blueness and feelings of absence these colors evoked, as well as immense power of stars and seas to both destroy and spur life. Poems rest within this confusingly wonderful space — somewhere between violence and peace, decay and emergence, analogous to the experience of living and being human.

tangerine is Willow's love letter to the sun, the sea, and seasons of death and rebirth they drive.
Willow is an interdisciplinary artist and storyteller from the endless hills and secluded forests of rural Virginia. Their work has been featured in journals including Soft Star Magazine, The Purposeful Mayonnaise, and Southern Regional Honors Council's Sanctuary, among others and they have performed at festivals like Earth Celebrations Ecological City, NYC, and Deep Water Literary Festival ('22 and '23), Narrowsburg, NY. Willow routinely merges visual, literary, and sonic mediums to create ethereal performances across the East Coast. They are passionate about using the intersections of art and science to tackle environmental and social issues, with hopes that their work inspires connection to the world around us. To find out more about their art, visit https://willowgatewood.com.