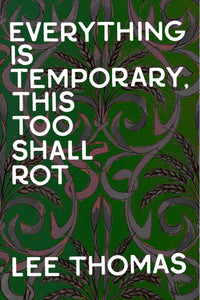 Poetry, chapbook, 32 pages, illustrated, from Bottlecap Features.
A collection of half-rambles adapted into the form of poetry, Everything is Temporary, This Too Shall Rot is a debut poetry chapbook containing writings dug out of overpriced journals and crumpled up take-out napkins and digital notes apps. Birthed from the self-intellectualization of emotion, the desire to be swallowed whole by nature, and an attempt to explain life through a religion they were never taught, these poems were written and rewritten between 2017 and 2022.
Filled with questions and reflections about life, death, and dying, aging and time, love and loss, Lee's poems work their way through pain and adoration to find purpose and meaning in anything they can find.
Lee Thomas is a writer, gardener, and indefinitely retired park ranger born and raised in San Diego, having also lived in Michigan and now living more or less permanently in the Pacific Northwest with a fat cat and a lot of love.