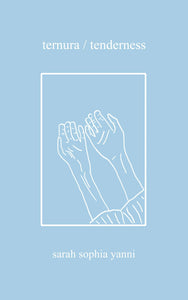 Poetry, chapbook, 28 pages, from Bottlecap Press.
ternura / tenderness is a collection of poems rooted in softness, corporeality, and questioning. The works explore the ways in which identity is shaped by others' expectations. They engage with language, notions of guilt, and feelings of longing for the places we call home. In her debut chapbook, Sarah Sophia Yanni uses memory and emotion to traverse her family, her body, and her mixed culture. 
Sarah Sophia Yanni is a writer and editor in California. A Finalist for BOMB Magazine's 2020 Poetry Contest, Poetry Online's 2021 Launch Prize, and the Hayden's Ferry Review Inaugural Poetry Contest, she holds a Faculty Fellowship at CalArts.