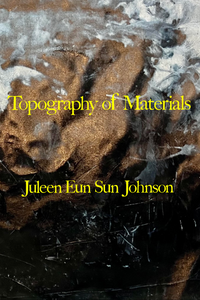 Poetry, chapbook, 28 pages, from Bottlecap Features.
Topography of Materials is a collection of poems that wrestle with time, space, and the context in which we are presently existing in. These poems are not an answer, but a contemplation and a form of reflection. A movement to the present; observe the past. An aria without an orchestra. You, the observer, are the observed. Listen to the past; to lighten the path for the future.
"Juleen Eun Sun Johnson's chapbook, Topography of Materials, is a vast mural of North America, traversing glaciers to sand dunes to winter ice. Through space and time, child to adult, her artist's/photographer's eye is keyed in to the visual and tactile, the philosophical and whimsical. The poet ends "Glacier Wildness" with the couplet, "In our youth, we regret the earth; we regret/the chance to touch something." It is that desire for more that allows her to juxtapose the "impulse to destroy" and the more hopeful "Ring is infinity." Her work reflects both hard truths and sheer joy. We are obliged to follow her calling."

—Diana Garcia, author of When Living Was a Labor Camp, 2001 American Book Award Winner
Juleen Eun Sun Johnson is an interdisciplinary BIPOC writer and artist. Johnson was born in Seoul, South Korea and adopted when she was three. She was taken to Valdez, Alaska where she spent her formative years. Johnson is a MacDowell Colony Fellow and the recipient of the Isabella Gardner Fellowship. She is the recipient of the Cannon Beach Art Association Grant for writing and art. Her art has been shown at different institutions and galleries in the United States. Johnson earned an MFA in Visual Studies from PNCA and an MFA in Creative Writing from University of Massachusetts Amherst.

Johnson's work has been published in: Poetry Northwest, Seventh Wave, and other journals and anthologies. Her poem won the Zone 3 Press Prize for Poetry. Johnson's poems have been nominated for the Best of Net. She is the founding editor of Trestle Ties: A Landscape of Emergence.