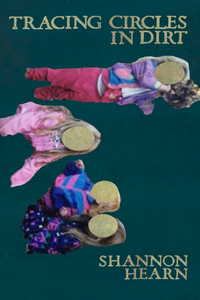 Poetry, chapbook, 28 pages, from Bottlecap Features.
"In tracing circles in dirt, Shannon Hearn writes poetry informed by the tension between the "dirty" mire of biological existence and the "clean" abstractness of geometric figuration. Hearn manages such tension with incantatory exactness and care through the subtle use of poetic logics such as the logic of alliteration. Hence C is for circles and circumference as well as for cancer, cavity, cartilage, and cyclical trauma. To read tracing circles in dirt from beginning to end is to explore exquisite traceries composed of curvilinear motifs, "slant" truth-telling, haunting images of mortality, elegiac echoes of the vocative "O", and slashes—intricately figurative line breaks—that punctuate the text like artful stitching or like tender reminders to breathe. This may be a book that imagines poetry as "tracing circles in dirt," but by "tracing circles in dirt" Hearn's poetry importantly redefines the circumference of our world. "

–Seo-Young Chu, author of Do Metaphors Dream of Literal Sleep? A Science-Fictional Theory of Representation
"Some things will break you if you speak them aloud. Some things will break you if you keep them in. With a beautiful delicacy, Shannon Hearn works to trace this line between speech and silence. She tells stories of violence and nightmares with a gut-wrenching precision, working on the level not just of the word but of the letter. Words and sounds in this poem are feelings–the hard "k" of "attack" in Hearn's lines is hard to hear without flinching. Hers is a strange and unrelenting vision. So much to see and hear in this poem, so much to crack open."
–Darcie Dennigan, author of Slater Orchard
"Shannon Hearn's tracing circles in dirt shows a precision of craft that blends aspects of memoir and speculation. Queerness in line and subject casts and recasts the travails of the body: whether through reiki, birthing, desire, tumors, and cancer—the speaker's every silence and utterance resound, urgent. The prose and lyric forms wielded by the poet charge the page electric as these poems express an interiority, a subjectivity immersed in the work of survival. The poet does not relent in needing to be beheld in all her complexities, asks "what in your life is worth carrying" as though looking directly at the reader, in full awareness of our web of connection."
–Rajiv Mohabir, author of Cutlish 
"Shannon Hearn's tracing circles in dirt operates as a body of textual cells, one that echoes the complications of our own cellular bodies, both biological and social, and the traumas they form. Hearn reminds us that no composition made of many can easily come together as one. The poem knows 'i am not a container/i am not.'"
–Magdalena Zurawski, author of The Tiniest Muzzle Sings Songs of Freedom
Shannon Hearn's work has appeared or is forthcoming with 3:AM Magazine, cream city review, Fugue, Voicemail Poems, DIALOGIST, and others. She is currently a PhD student in Poetry at Binghamton University, and lives in Brooklyn.