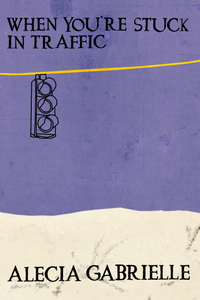 Poetry, chapbook, 28 pages, from Bottlecap Features.
When You're Stuck In Traffic by Alecia Gabrielle is a masterfully written chapbook ruminating upon life's losses, heartaches and hopes. The collection reads like a tuneful flux and lingers like strange afterthoughts even after the drive home ends.

Written amidst the humming of stationary traffic, these poems call the reader by name to welcome them into a mind and heart akin to theirs. From bittersweet ventures to past oddities, raindrops on the car window, fleeting memories, to backpocket affirmations, the things you cannot bear to lose, locked in the glovebox, Gabrielle unlocks a myriad of experiences which embrace the past and present for reader, speaker and poet.

When You're Stuck In Traffic is a succinct collection to savor, showcasing Gabrielle's rich poetic style and voice at its very best. There is wisdom alongside reckless abandon, an ache for childhood hand-in-hand with sensory hedonism, and the thick thread of humanity woven through it all.
Alecia Gabrielle is a Mississippi native who has been writing poetry for about eleven years. She has self-published one full length collection, Afterglow Effect, and one other chapbook, Man-made motion sickness. Alecia is a member of the Mississippi Poetry Society, and she is a two-time recipient of writing awards in the poetry division for the Hinds Literary Festival. In her spare time, she enjoys long drives in the countryside, reading poetry and memoirs, and listening to folk music.