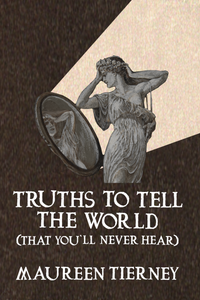 Poetry, chapbook, 28 pages, from Bottlecap Features.
Truths to Tell the World began as a way for the author to articulate difficult experiences with her mother. From there, it grew into an incredible work of self-expression. Truth is an important concept to the author, and understanding that everyone has their own side to a story, their own truth in it, is what led the author to write these poems.

From there, the author began to think of what she wanted to share with her mother. Each poem embodies a truth that will never be told directly to the person in question, but rather will be shared with the world through a book of poetry.

The author hopes that by sharing her truths, others will be inspired to share their stories, as well. Everyone deserves to be heard. The author hopes this work, and any other poems she creates in the future, lead others to feel confidence in their stories and in sharing their truths.
Self-proclaimed goddess of wishes, Maureen currently resides in the state of Vermont. She has traveled around half of the US, living in five states at this point in her life. She loves telling stories and hearing them. She always believed she would share her words in the form of a novel, but it turns out poetry is her calling. Maureen believes in truth and story, and cannot wait to see her work shared with others.