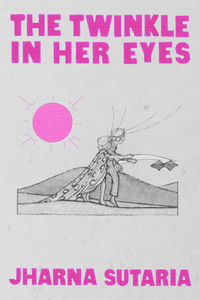 Poetry, chapbook, 16 pages, from Bottlecap Features.

This chapbook is a poetic memoir that draws back the curtains of a toxic friendship. Each poem walks the audience through the whirl of emotions and experiences of entering and exiting an abusive situation.

Through poignant metaphors and haunting imagery, The Twinkle in Her Eyes shows the difficulty victims face when they find themselves trying to recover from being covertly entangled with someone they love— a narrative that begs us to remember how those who are hurt can sometimes hurt others.

Sutaria has written this book with the hope their raw story will help readers who were or are in a similar situation to arrive at a place of self-compassion and safety.
Jharna Sutaria is a spoken word artist and creative writer. They were introduced to slam poetry during their freshman year of high school and have been sharpening their craft ever since. Jharna's personal ties to mental health, sexual assault, and transphobia have led them to creatively advocate for the various social issues that they survived. Their work has been showcased on multiple online platforms, including Palo Alto High's Verde Magazine, The Script (Foothill College's Student News), Swim Swam Magazine, Creative Communication, The Gay & Lesbian Review, American Swimming Magazine, Kings River Review, and the Coppell Gifted Association.