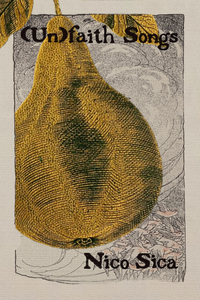 Poetry, chapbook, 28 pages, from Bottlecap Features.
(Un)faith Songs is an exploration of mythologies, the dominating ones that form religions, and the personal ones like childhood memories that become mythic over time.

Written over the course of the author's first postgrad year, (Un)faith Songs is a critical reflection on growing up under the influence of Catholicism and an attempt to find the divine in the beauty of the everyday.

Nico Sica is a 23-year-old interdisciplinary artist from Kutztown, Pennsylvania currently based in New York City. This is their first chapbook.