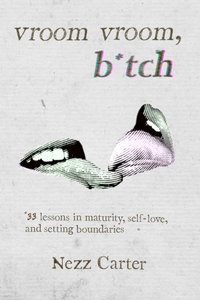 Poetry, chapbook, 40 pages, illustrated, from Bottlecap Features.
Take a stroll down memory lane… and then right back out. Vroom Vroom, B*tch is a spunky collection of thirty-three lessons in maturity, self-love, and setting boundaries. It represents the progression of childhood, oneself, and navigating the conflicting ideologies often learned throughout. Learning and experiencing your way through the chapbook, readers see the ever-changing perspective of a confused soul trying to find where they belong, and how. Vroom Vroom, B*tch serves as an ode to the internal struggles of one's younger self, as well as the confusing, bittersweet love for childhood. These witty, insightful poems almost play with the inner-turmoil found in one's journey toward self-acceptance. Vroom Vroom, B*tch shows readers that no matter how topsy-turvy life may become, there is always magic to be found in the honest exploration of one's mind.

The intricacies of each poem advance as Vroom Vroom, B*tch progresses, representing the internal growth and change of one's perception throughout childhood. The poems explore different thoughts and experiences, both happy and sad, but whose depth of meaning was not fully realized until much later. Highlighting struggles created by neglecting the inner-self and one's confusing journey towards the self again, Vroom Vroom, B*tch shows readers the importance of respecting personal boundaries and accepting yourself for all you are and ever may be.
Nezz Carter is originally from San Antonio, TX, where she attended the University of Texas at San Antonio for Geography and Environmental Sustainability. She earned her Master's degree at UTSA's Business School at 22 years old. She currently lives in Baltimore, MD with her partner and two pets. Through her writing, Nezz Carter aims to promote sustainability for the planet and mind. She regards herself as an advocate for creativity, magic, and imagination.