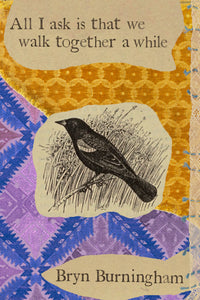 Poetry, chapbook, 36 pages, from Bottlecap Features.
All I ask is that we walk together awhile collects poems on falling in love with people, places, and the absolute. Nights of insomnia led to several of these poems, as did mornings of kitchen dancing, and afternoons of walking and hiking.
A few poems are in or have a handful of words in Spanish. Two of these are love letters to countries; Bryn had the opportunity to travel to Colombia and later Chile during her college years. There, she left behind embroidered patches, postcards, handmade prints, and paper cranes. She carried the Spanish language she learned back to the US and incorporated it into her poetry practice.
This collection of poetry is about the transience of life and love. The people and places we love don't always stay with us or stay the same, and loving can be a quandary. Connection is a two-way street, and it can be deeply frustrating when the object of one's affection doesn't respond. This inaugural collection of love poems attempts to cover the expanse of one naïve life. Even though most of these poems are about or addressed to other people, these poems are more self-portraits.
Bryn Burningham has been in love with the world and beauty since she was twelve. She is trained as a printmaker, first at Snow College then at Utah State University, but she was birthed by poets. She has been published in Highlander Magazine, WEEDS Art and Literary Magazine, and The Southern Quill. Bryn lives in central Utah, four blocks from her family. She volunteers on her town's fire department along with three of her brothers, her dad, and her sister. She spends much of her time in the house she grew up in, though she dearly loves her own home with the pink tiled kitchen and various plants or avocado seeds sprouting in almost every window.