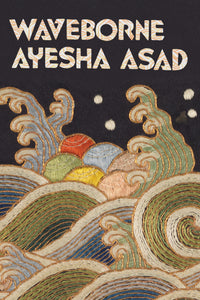 Poetry, chapbook, 32 pages, from Bottlecap Features.
Waveborne is a collection of poems steeped in identity and emergence—within these pages, the body is a malleable vessel, both undefined and redefined by a language immersed in lyricism and resonance. Waveborne explores second-generation immigrant adolescence through a reflective lens, unearthing a deep-rooted desire for kinship and reinvention. Caught in the currents of a world that seeks to define, this chapbook aims to examine what it means to inhabit an inherited body and rise above the tide.

Poems from Waveborne interweave scenes tonally influenced by setting: a blazing hot poolside, a darkened, frigid bedroom, the sequestered space inside a car. Questions of intimacy, faith, and selfhood arise throughout the collection, disentangling a story long held within its own jaws and releasing it into the air like a song.
Ayesha Asad is from Dallas, Texas. Her work has been included in the 2020 Best of the Net Anthology, and her writing appears or is forthcoming in PANK, diode poetry journal, DIAGRAM, Sundog Lit, Cosmonauts Avenue, Zone 3, The Boiler, and elsewhere. A Pushcart Prize nominee, she has been recognized by Best of the Net, Creative Writing Ink Journal, and the Robert Bone Memorial Creative Writing Prize. Currently, she is an undergraduate at the University of Texas at Dallas. In her free time, she likes to dream.