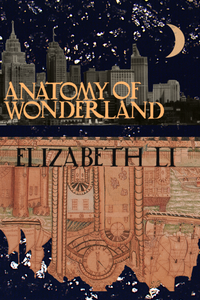 Poetry, chapbook, 28 pages, from Bottlecap Features.
Wander through the gritty yet enchanting suburbs of Suizhong, China, to the brilliant iridescence of Shanghai. anatomy of wonderland draws you into its wild, fantastical world that explores the unique cultural dislocation of second-generation immigrants. The poems are fiercely intimate – rosy recollections of childhood magic juxtaposed against visceral grief, tied together with surreal retellings of Chinese folklore – all coalescing to depict the haunting guilt to live up to the sacrifices that paved one's path.
And such is the paradox of sacrifice: that success is becoming a stranger to those you meant to cherish. What remains at the end of the rabbit hole, after the loss of language, dignity, and family? Western capitalism demands cultural assimilation – the severing of heritage with ambition – and the journey towards reconciliation is one that starts with a realization:
you are lost in wonderland.
there is no way to be found.
Elizabeth Li is a Chinese-Canadian writer currently living in Toronto, Canada. In the past, she has been part of the Kenyon Young Writers Workshop and has had her works recognized by the Scholastic Art & Writing Awards, the John Locke Institute, The Aurora Journal, and more. She is also the Editor-in-Chief of The Origami Review, a literary & arts magazine that seeks to platform underrepresented and marginalized voices within the artistic world. As a poet, she seeks to use surrealism as an exploration of identity, as well as a medium for cultural reconnection and catharsis.