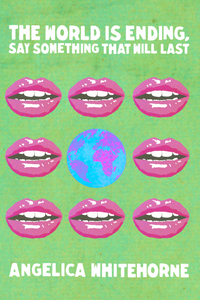 Poetry, chapbook, 36 pages, from Bottlecap Features.
The muse of this collection was our parasitic relationship with the Earth. It's full of back talk, eco-jabs, natural and unnatural laments, rightful finger points, and plenty of unanswered questions. There's a hefty pour of doom and a sprinkle of hope, which is straight from the recipe of our world today.

The collection includes 22 poems as an ode to Earth Day on April 22nd. The final poem of the collection is titled, 22 Things To Do When The World is Ending, another play on this date and a gathered manifesto of small ways to survive among our time's constant catastrophe.

The project pairs the tragedies of climate change, eco-politics, and over-consumption with moments of humor and replenishing natural imagery.

The World Is Ending, Say Something That Will Last, is neither a piece of helplessness or pure rage, rather a confrontation, an apology, a love letter to planet we trample over daily.
Angelica is a writer from Buffalo, New York who has published or forthcoming work in over thirty literary magazines including Westwind Poetry, Mantis, and The Laurel Review, among others.

Besides being a devastated poet, Angelica is a Marketing Content Writer for a green energy loan company and a Program Assistant at Just Buffalo Literary Center.

She believes in a better world, despite her better judgement, and she hopes it believes in her too. She is also currently writing her first novel, so wish her luck.