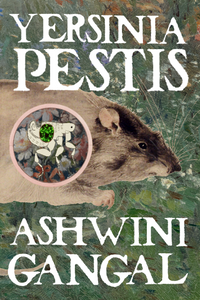 Poetry, chapbook, 20 pages, from Bottlecap Features.
Yersinia Pestis, the bacterium that led to the deadly medieval plague, is the eponym of this chapbook, a collection of six poems of varying length and style but similar in theme, mood and clime.

Some of these poems were written during the worst hour of the recent pandemic, while others were born in the afterglow of the carnage. But all six pieces germinated from the same idea, that human beings and the microbes that infect, envenom and slaughter them are very alike. Just like us, these invisible germs want to reproduce and thrive, with little concern for the creatures they live off.

This mix of rhymes and free verse is a meditation on the human condition as seen through the prism of disease. It's also an ode to the existential angst, despair, disquietude and madness that the plague of our century has left in its wake.
Ashwini Gangal is a California-based writer. The 2020 pandemic turned Ashwini into an obsessive reader of medical anthropology and plague-themed literature. Her deep interest in the way microbes shape human lives has bled into her fiction and poetry. The more she reads about human history, the more she identifies as a misanthrope. Ashwini has worked as a journalist for the last 13 years. Until recently, she ran a digital newsroom for a business publication called afaqs.com, as managing editor. Ashwini is passionate about mental health and has a master's degree in clinical psychology. Lit mags and zines that have published her poetry in recent times include Zvona i Nari (Croatia), The Hooghly Review (India), Penumbra (USA), San Antonio Review (USA), One Art (USA), Sein und Werden (UK), Iceblink Lit (USA), Tap into Poetry (UK) and Papers Publishing (USA).