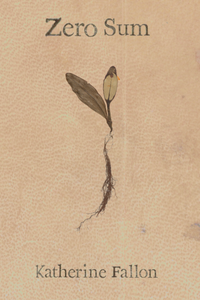 Poetry, chapbook, 32 pages, from Bottlecap Features.
In Zero Sum, a woman leaves behind an urban existence to enter a world marked by grief, the ethics of animal husbandry, and land stewardship while tending to a farm in the foothills of the Rocky Mountains. 
 
Heartbreak, mediations on land, natural death, and the responsibilities of slaughter permeate this collection. Sparse poems are home to cutting, unexpected turns fluctuating between desire and outside influence: observing a spider web becomes a lesson in atheism and the will to survive; a clothing line of drying diapers calls to mind the meat processing plant where a befriended cow was slaughtered and skinned; a tragic local death recalls the violence of city living; birds themselves become injury. The poems compress the mess of life into neatly formed and staggeringly crafted revelations on lost love, the taking of life, and finding redemption through a life lived close to the ground. 
 
This book will leave you too with blood marked hands, and within that, Fallon offers us an opportunity to reckon with a solitude that is not at all solitude: when the flora and fauna and soil gives to us, we may find that we are in good company. 
Katherine Fallon is the author of the chapbooks The Book on Fractures (Ghost City Press, 2022), Demoted Planet (Headmistress Press, 2021) and The Toothmakers' Daughters (Finishing Line Press, 2018). She is Poetry Editor at MAYDAY and reads for [PANK]. Her poems and fiction have appeared in AGNI, Colorado Review, Juked, Meridian, Nimrod, and The Los Angeles Review, among others. She was a finalist for the 2021 Georgia Author of the Year Awards, has been nominated for the Pushcart Prize, and was a finalist for the Best of the Net. She claimed her MFA from Sarah Lawrence College and teaches at Georgia Southern University.