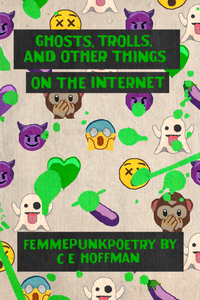 Poetry, chapbook, 40 pages, from Bottlecap Features.
Have you ever had a crush on a cam girl?
Would you dedicate a poem to Taylor Swift?
What would you do if you were the last millennial with a flip phone?
GHOSTS, TROLLS, AND OTHER THINGS ON THE INTERNET is the second poetry chapbook from author C. E. Hoffman.
Satirical, sad and sweet, Hoffman observes the misinformation age as a technological outcast, making pop culture poetic, and poetry pop culture.
C E Hoffman was born, gave birth, and tried to die in Edmonton, AB (not necessarily in that order.) A grant recipient, award winner, and Writer's Union of Canada member, they've been published widely online and in print since 2010, and edited Punk Monk Magazine since 2012.
Their #OwnVoices collection SLUTS AND WHORES is available via Thurston Howl Publications, and their chapbook BLOOD, BOOZE, AND OTHER THINGS IN NATURE is out from Alien Buddha Press. Find more weirdness at cehoffman.net and follow them on Twitter @CEHoffman2.