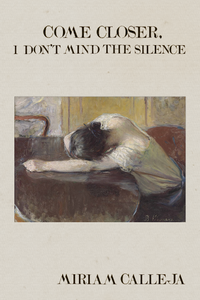 Poetry, chapbook, 36 pages, from Bottlecap Features.
Poetry written on two continents over 15 months takes us from island life in the Mediterranean to the American South. The poet finds refuge and understanding in watery dreamscapes; she calls to nature and the elements to piece together a path to where she is right now. What is she but a woman in constant translation?

Hybridity, a change in rhythm, and the use of space craft a collection that exhibits its wounds with its joys and does not draw clear lines between memory and dream logic. We are taken to dark caves and metamorphosized until we recognize the self again. And just as we think we've begun to understand, the walls of the dream are set on fire.

Calleja writes on existential themes and aspects of violence, renewal, navigating the world as a woman, and longing. She flirts with the unsayable and questions what keeps us alive (even in our darkness) and what keeps our fingers on cave walls (even when we cannot see the light). Hope and loneliness lie down together—anything to language the noise.
Miriam Calleja gives herself and others permission to write. She is a nonfiction/fiction writer, translator, workshop host, and poet. She is the Maltese bilingual author of poetry collections Pomegranate Heart, Inside, Stranger Intimacy, the chapbooks Remember and The joy of the unknown fictitious monster, and the collaboration Luftmeer. Her essays and poems have appeared in Platform Review, Whale Road Review, Tupelo Quarterly, and Modern Poetry in Translation and elsewhere. Later in 2023, she will also be published in Taos, LEON, and Scintillas (Praspar Press). Her work has been translated and anthologized worldwide. She has read at the Malta Mediterranean Literature Festival (Malta), Schamrock Festival for Women Poets (Germany), Poetry on the Lake (Italy), Wednesday Night Poets (online, US), and AWP 2023 (Seattle, US).