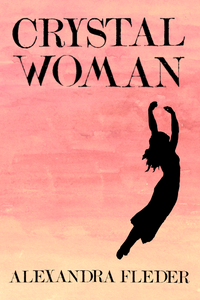 Poetry, chapbook, 20 pages, from Bottlecap Features.
Crystal Woman is an exploration on ways we give up our power to the authorities in our lives, how we hold on to trauma and how we can release it, transforming it into our greatest strengths.

This collection of poems is dedicated to the divine feminine within all of us, the one who is howling to be heard under a duct-taped mouth, a blindfold and the full hunter's moon.

Crystal Woman tells us the time to rip off the tape and blindfold is now. It is time to step forward, to walk into that lonely terrain, into the forests drenched in fear and unknown experiences, to come through to the other side, into our full power. It is only then that we can reclaim the best parts of ourselves we've been hiding out of fear for far too long.
Alexandra Fleder is an energy healer, a writer and a native daughter of Los Angeles. She loves cats, reading, hiking through the canyons, and going to the beach, no matter what time of year. You can find more about her on her website, https://www.pawsonreiki.com/