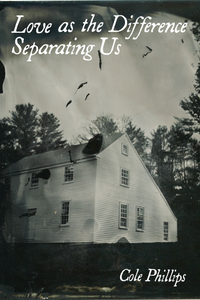 Prose, chapbook, 40 pages, from Bottlecap Features.
Off the coast of Richmond, Maine is a centuries-old ghost town, on which only a few extant homes remain which precede its mass exodus. The homes largely stand untouched, and as they would have been in the period.

Wet-plate photography, one of the only photographic media that could have been used when these homes were actually inhabited, reflects the homes in their current states, though without sacrificing their histories and the humanity still within them.

Through a lens of historical photography and narrative nonfiction which invites questions of one's own purpose in a world where we fade out but our imprints remain, Love as the Difference Separating Us is a photographic essay charting Maine's resident-ghost-town and serving as commentary on closeness as, somehow, both fleeting and perennial.
Cole Phillips is a writer living in Maine with his family. He holds an MFA from New England College and is a PhD student at Indiana University of Pennsylvania. His work has appeared in Fence, New World Writing, Juked, HAD, Post Road, and elsewhere. His work has been longlisted for the Wigleaf Top 50 Very Short Fictions, the Reflex Press Novella Award, the River Styx Microfiction Award, and others. He is the author of Standish Blue (Ghost City Press).