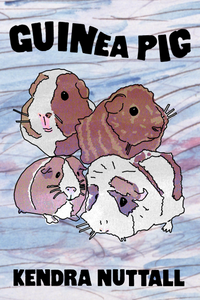 Poetry, chapbook, 40 pages, from Bottlecap Features.
This is a book about guinea pigs, but not just the cute critter variety. It's also about the science experiment of the human experience. It's about birth, death, and expiration dates. Flowers and weeds. Types of mothers and types of children. Salt without sugar. Bees without honey. Love gained, love lost, and the ever ticking of the clock.

These poems invite you to draw your metaphorical sword and journey with the herd through deserts, over mountains, and across the land of multi-level-marketing. Fight the HOA, fight tradition, fight yourself. So, fellow guinea pig, will you cuddle into clouds or storm the castle?

Kendra Nuttall is a copywriter by day and poet by night. She is the author of previous poetry collections, Our Bones Ache Together (FlowerSong Press, 2023) and A Statistical Study of Randomness (Finishing Line Press, 2021). Her work has been nominated for Best of the Net and has appeared in Spectrum, Echolocation, Capsule Stories, and more. Kendra lives in Utah with her husband, dog, and guinea pigs. Find her online at kendranuttall.com.