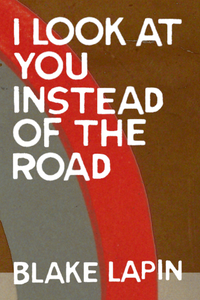 Poetry, chapbook, 32 pages, from Bottlecap Features.
I Look at You Instead of the Road is a collection of poems describing a first, tremendous grief. The poems are themselves a fulsome experience of loss – depicting the enormous joy of young friendships; metabolizing the impact on a community when a member is taken unexpectedly of an overdose.
Humor, honesty, and detail contribute to the buoyancy of playful poems, then the weight resulting from the absence of that levity. In one poem, Lapin writes, "Nothing / Really completes, just continues / Pad-footed, moving always." In another, "What I'm saying is body / Can only push so hard against the spirit." Another poem finishes, "We are given names / and we wear them."
Although this collection uses tragedy as a way in, the poems do not dwell on suffering, they center presence. These are poems to enjoy. They're about oranges, laying on grass, driving fast, hanging out, kale, milky eyes, sneakers, gnats, motorcycles, bay windows, donuts, schoolyard scrapes, even bottle caps.
"Blake Lapin's stunning chapbook explores his Generation Z experiences: the thrill of young love, the loss of a friend to an overdose, the definition of masculinity, and the adventures of travel. His best poems combine original language with fresh insights and ardent feeling.  Blessedly, Lapin is unafraid of Truth which of course is the basis of all good art."

–Henri Cole, Author of Blizzard

"Blake Lapin's I Look at You Instead of the Road is a tender, lyrical reckoning with loss, a catalogue of moments and movements that sprout from "our past and our learning" in order to both celebrate and grieve, and in so doing locate a lifetime in a day and a day in a lifetime, "establishing magnitudes / of infinity." This is a poetry of noticing, of "giving and taking pleasure" in the sensual stuff of everyday life among friends and rain and cars and ash, with full attention paid to the inexorable play of decay and renewal. Rendered in a sharp diaristic lyric that often gets shaggily demotic around the edges, these poems "prioritize listening to a world" as a means of mourning and endurance, honoring the memory of friends gone too soon."

–Daniel Owen, Author of Restaurant Samsara

"The poetics of Blake Lapin's I Look at You Instead of the Road recall the lines from Anne Sexton's "The Truth the Dead Know,"—"When we touch / we enter touch entirely. No one's alone. / Men kill for this, or for as much." Like Sexton's poem, the subject matter of I Look at You Instead of the Road is a close loss, where the power of touch, of life, is not diminished in its wake. In Lapin's poems, life, through its annihilating ecstasy, equalizes death in its sense of totality. This is achieved not through the avoidance of death as a subject—he is candid and graceful in talking about the circumstances that bring on the writing of this book—but by the acknowledgement of grief's potency through sonic, lyric phrases, that evoke both the beauty of the friendship had and the sting of its loss: "Your death is when someone peels an orange and the whole room is fragrant." Through his reverent and careful word choice, Lapin enacts a kind of everlasting life in I Look at You Instead of the Road, a timeless "hour no one is dead." 

–Amanda Larson, Author of Gut
Scholarships from Brooklyn Poets, Community of Writers, and the New York State Summer Writers Institute have supported Blake Lapin's work. After obtaining his undergraduate degree at Claremont McKenna College, he spent a year in Malang, Indonesia on a Fulbright grant. His poems have appeared in The Community of Writers Poetry Review and The Journal of New Jersey Poets. He resides in Brooklyn, NY where he pursues a Masters in Public Administration at NYU.