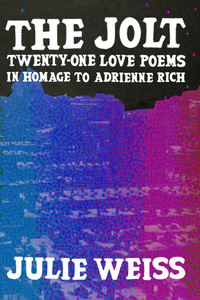 Poetry, chapbook, 32 pages, from Bottlecap Features.
After exchanging an ardent glance on a morning commuter train, two strangers disembark at the next station. Thus begins The Jolt: Twenty-One Love Poems in Homage to Adrienne Rich, a modern-day romance in which the narrator, a drifter seeking to reinvent herself on foreign soil, uses spare, captivating verse to contemplate her burgeoning love affair with a woman who, through the most serendipitous of accidents, knocks her "off the track of [her] life."

Like a lover's "frenzied hands," these poems, born of both personal experience and a striking imagination, undress every inch of our senses, from buttered croissant to rippled breath to a busker's soulful song. But the author's work is not a mere outpouring of passion. Weiss has deftly crafted her images to echo the bold and exquisite love poems written by her lifelong idol, Adrienne Rich.

The Jolt is much more than a book. It's a perfumed envelope sealed with a kiss, which, once opened, reveals a letter of adoration addressed at once to the narrator's lover, the author's wife, the art of poetry, and to the legendary poet who inspired these twenty-one poems that aim to celebrate the beauty and resilience of lesbian love.
Julie Weiss (she/her) is the author of The Places We Empty, her debut collection published by Kelsay Books. Her poem "Poem Written in the Eight Seconds I Lost Sight of My Children" was selected as a finalist for Sundress's 2023 Best of the Net Anthology. She won Sheila-Na-Gig's Editor's Choice Award for her poem "Cumbre Vieja", was named a finalist for the 2022 Saguaro Poetry Prize, and was shortlisted for Kissing Dynamite's 2021 Microchap Series. A Pushcart Prize nominee, her work appears in Rust + Moth, ONE ART, Sky Island Journal, Orange Blossom Review, Gyroscrope Review, and MacQueen's Quinterly, among others. Originally from California, she lives in Spain with her wife and two young children.