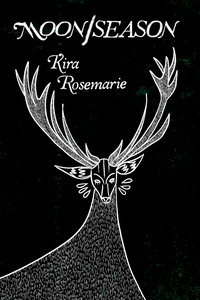 Poetry, chapbook, 32 pages, from Bottlecap Features.
Moon/Season is a collection of poems divided into seasons and moon phases as a reflection of my personal practice of witchcraft and my relationship with seasons. Especially after leaving Kentucky for Florida – where seasons barely exist – I found myself reevaluating what it meant to connect to seasonal changes and to leave your ancestral climate behind.

I wrote these poems to make your heart ache thinking of family, and make your fingers cold like you were just digging through fresh dirt. They give voice to relatives I barely knew, forests I've only seen in my dreams, and animals who know something we don't.
Kira Rosemarie is a writer and artist from Northern Kentucky currently living in South Florida. She writes poetry and short fiction and has been published on Sad Girls Club Literary Blog, The Dillydoun Review, Cathexis Northwest Press, and The Write Launch. She was also featured in Indie Earth Publishing's anthology, The Spell Jar: Poetry for the Modern Witch. You can find her on Instagram as @busy_witch.