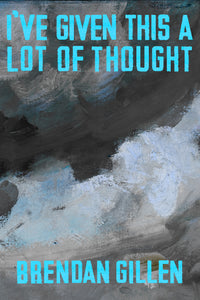 Prose, chapbook, 40 pages, from Bottlecap Features.
A weathered boxer dreads the opening bell. A young boy grapples with loneliness on the first day of summer break. An indie rock guitarist comes to terms with the limits of his ability. A belly flop contest punctuates the death of a friendship. In the aftermath of a fastball to the helmet, a beer league ballplayer confronts his deepest fears.
Woven throughout the stories in I've Given This a Lot of Thought is the characters' yearning for transcendence in the face of deep anxiety and doubt. This is a collection that seeks to understand how the small, quiet moments can, for better or worse, come to define the rest of our lives.
"I first began writing flash fiction as early morning exercises in voice, dialogue and tone. But I've come to really love the form, the ways in which brevity can encourage experimentation. As a music fan, my hope is that a piece of short prose can do what a favorite song can do: hit quickly and leave a lasting impression."
–Brendan Gillen
Brendan Gillen is a writer in Brooklyn, NY. His work appears, or will appear, in HAD, X-R-A-Y, Expat, Longleaf Review, South Carolina Review, Taco Bell Quarterly and elsewhere. I've Given This a Lot of Thought is his first chapbook. You can find him online at bgillen.com or on Twitter/Instagram @beegillen.