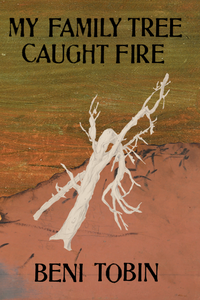 Poetry, chapbook, 28 pages, from Bottlecap Features.
What do you do when your family tree goes up in flames? When bitterness, bigotry, and mutual frustrations strike at the heart of your closest relationships? Can one rebuild and grow their own family from the ashes? Author Beni Tobin asked those very questions while penning their first chapbook, My Family Tree Caught Fire.

Ranging in tone from sardonic to hopeful, My Family Tree Caught Fire expresses the conflicting emotions surrounding complicated familial relationships. Inspired by a year of unprecedented loss, heartbreak, and renewal, the poetry in this collection is both a lamentation and a psalm. It invites the reader to resonate with the personal journey of the author and connect with the universal desire to be seen, loved, and accepted by those we hold dear. 
Beni Tobin (she/they) is a non-binary queer author living in Santa Barbara, California with their spouse, two children, and three dogs. Their writing is influenced by their experiences as a parent, a member of the LGBTQIA+ community, and an apostate of evangelical Christianity. They have been previously published as part of the Motherly Collective and write across multiple genres including science-fiction, fantasy, horror, and, of course, poetry. When they are not writing, they enjoy playing games with their children, taking their dogs to the beach, and dancing.