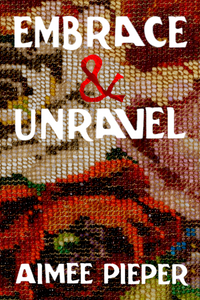 Poetry, chapbook, 40 pages, from Bottlecap Features.
Embrace & Unravel is about trying to find yourself in other people, finding the right people, and convincing yourself you've moved on. This poems and short essay in this work explore the different feelings of angst and longing associated with what we consider love, what love looks like when it's what we need, and the feelings associated with figuring life out.

Compiled over 3-4 years, these poems chronicle some of the thoughts and feelings of the author as they learned more about themselves and unlearned a lot about life as they knew it at the same time. Though the poems mostly focus on love, processing all the emotions related to a coming-of-age era are at the heart of the scribblings in this book. 
Aimee is a nonbinary writer and an artist currently located in St. Louis, Missouri. They are very humbled to be able to publish their silly little Notes app poetry, and they hope you enjoy it. They hope to be able to publish more poems, as well as prose in the future, but for now, they're just trying to graduate. When they do, they will have received a BA in Foreign Language – Spanish, and a Minor in Studio Art, from the University of Missouri – St. Louis, with Honors from the Pierre Laclede Honors College. Wish them luck!