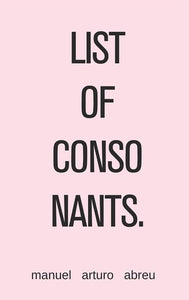 Prose, paperback, 104 pages, from Bottlecap Press.
List of Consonants is a list of consonants with intervening vowels. The book is an ambient novella that explores what Wilson Harris calls "community-in-creator" by merging from-scratch text with found text and asking "what exactly is the difference?" By treating their own from-scratch text as though a stranger had written it, abreu shows how little we know ourselves, and performs an authorial petite mort in honor of their friend, who died by suicide in 2013.
manuel arturo abreu (b. 1991, Santo Domingo) is an artist and writer from the Bronx. They received their BA in Linguistics from Reed College in 2014, and currently live and work in a garage in southeast Portland. Recent group exhibitions with Rhizome and the New Museum (online), the Cooley Gallery (Portland), Chicken Coop Contemporary (Portland), Veronica project space (Seattle), and AA|LA Gallery (Los Angeles). Recent publications in Art in America, Rhizome, CURA, SFMoMA Open Space, AQNB, et al. abreu is the author of List of Consonants (Bottlecap Press, 2015) and transtrender (Quimérica Books, 2016), and their debut collection of critical writing is forthcoming 2018.