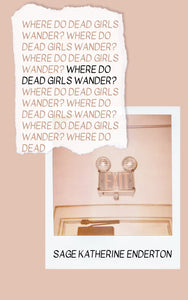 Poetry, chapbook, 36 pages, from Bottlecap Press.
WHERE DO DEAD GIRLS WANDER? is failed relationships, witches, teeth, ghosts, girls, sex, and birds. it is healing, and hurting, and learning, and sometimes not learning at all. a mix of form, formless, and experimental poetry, WHERE DO DEAD GIRLS WANDER? amplifies empathy and self perception while examining what it means to love too much too quickly.
sage enderton is a lover of women and espresso. an artist, author, and sagittarius moon living in buffalo, NY, she is currently pursuing a writing BA from buffalo state college. her work has appeared in Peach Mag, super/natural, Ghost City Press, and My Next Heart, among others. WHERE DO DEAD GIRLS WANDER? is her first chapbook. she can be found on instagram at @skenderton.