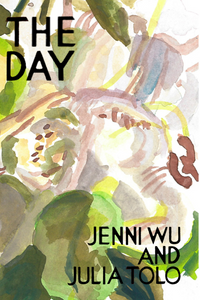 Poetry, chapbook, 64 pages, illustrated, from Bottlecap Features.
Starting in January 2020, co-workers Julia Tolo and Jenni Wu started a daily practice of collaborative art making during breaks from their jobs as administrators at an arts non-profit in New York City. THE DAY combines poetry and watercolor paintings inspired by the mundanity of office life– commuting, breakfast meetings, emails, and the annoyances and joys of working with other people.
In March 2020, their office closed in response to the COVID-19 pandemic. Continuing their project from home, Julia and Jenni used their art practice as a way to stay connected through the early days of forced isolation, virtual meetings, and global uncertainty.

Julia Tolo is an Oslo-based poet and translator, her most recent chapbook is mother/cake from Ghostbird Press (2021). Jenni Wu is a painter and arts administrator. She lives in Peterborough, NH with her dog Marvin.