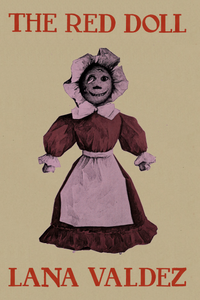 Poetry, chapbook, 20 pages, from Bottlecap Features.
The Red Doll is a striking collection of poems, loosely telling the story of the haunting of a young woman. Told through fractured childhood memories, dreams, and diary entries, the poems explore what adolescence is when plagued by guilt, and reflecting in the aftermath of it all.
Gut wrenching and lucid, the story at the heart of the collection is cobbled together like the mumblings of a child, made up of simple, soft language and thorny questions. In The Red Doll, Lana Valdez paints a picture of the frightening mind of a young girl; the perils of waking up in a human body, having two brains, and finding the meaning of penance.
Lana Valdez is a twenty year old writer and filmmaker currently living in Southern California. Always in constant pursuit of creativity, she has been writing poetry, short stories, and screenplays since childhood, but often takes breaks in between projects to find something new. She has been published in Minute Magazine and Indicia Lit, and her short films can be found on her YouTube channel, Lana Valdez.