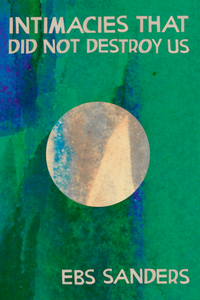 Poetry, chapbook, 28 pages, from Bottlecap Features.
Intimacies that did not destroy us splits open want, work, chronic pain and addiction. Existing in a space empty of resolve, these poems wrestle a way into wildness where wildness is a threat and can't stay. Strange and acute, laced with razors, they return again and again to painkiller. What functions as painkiller, who it is available to, at what cost and how there is not enough.
These poems hold the mental fracturing caused daily by work and phones, how and where cracks in perceived reality creep in, cratering. There is no abating but there are small salves. Loosely woven with dense thread, these poems veer between implore and depletion. Wanting. Hurting. Wanting. Hurting.
Ebs Sanders is a poet living in Philadelphia. They co-edit the tiny with Gina Myers. They are the author of A Fallow Channel (Gauss PDF, 2020) and a bunch of chapbooks and zines. Their work has appeared in Asterion Projects, bedfellows, blush, Prolit, The Rumpus and Tripwire, among others.