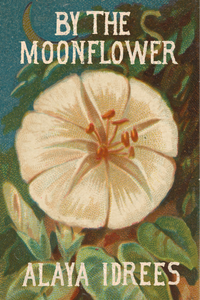 Poetry, chapbook, 24 pages, from Bottlecap Features.
By The Moonflower invites you to embark on a healing journey. It is no easy journey of finding yourself during a time of hurt but the quest is worth it. Explore the deepest depths of yourself and find the light that shines brightly in the dark. For the Moonflower symbolizes the growth of the soul but also serves a reminder of the challenges that you have to face.
Alaya Idrees uses fantasy and imagery to express the bare concepts of sorrow and healing where you, reader, encounter enchanting stories of mermaids, old gods, demonic heavens and lullabies from space. Her lyrical prose will guide you to accept the flaws and the strengths of your character. Consisting of 22 pages, these verses provide a safe space to you, reader, by the moonflower to tell your story. 
Alaya Idrees is a self-taught illustrator and a writer who has a great love for books. She graduated from Florida International University with a bachelor's degree in Liberal Studies. Ever since she was young, she was fascinated with the arts including the creative freedom of words. She uses literature particularly poetry as a way to cope with her PTSD and the daily trials of adulthood. Poetry allows her to fully express herself: to dance with devils, write love letters to the stars and to witness forgotten fragments of herself.