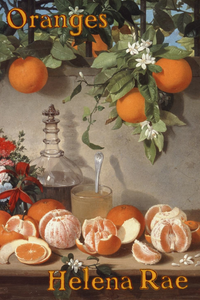 Poetry, chapbook, 32 pages, from Bottlecap Features.
Oranges is a collection of poems by California-born poet Helena Rae, all written within the all-consuming vortex of love; its tender and tentative beginning stages to the caustic and humbling affair of its loss. While exploring the ephemeral nature of partnerships (even the ones that we think will last forever), the assembled poems reflect the emotional data of the author's first year of romantic amity with another woman-adjacent genderqueer lover.

Pulled from Rae's creative archives, Oranges takes a poem and digital photo from each month of that lawless first year of love and composes them into the story of their sacred and undone partnership for readers to experience themselves. While the collection clearly investigates the themes of love's liminality, it also uncovers the author's personal truth that a predictable, domestic love is not their ideal. Rather, the author communicates that part of a union's richness is contained within the daily contraindicatory struggle for autonomy and complete consumption by the other. 
Helena Rae is a poet, visual artist, legume enthusiast, and advocate for body sovereignty who lives on the unceded territory of the Awaswas-speaking Uypi Tribe in California. They feel most comfortable when they're in the woods, and feel most creative when they're lonely. Their written work centers around themes of daughterhood, queer magic, and how the highly spiralic cycles of life often leave them either on the Island of the Lotus-Eaters or in a flame-engulfed liquor store dumpster. Some of Rae's visual and written work has been printed in various magazines, and this is their first chapbook. At this point they're wondering if this sounds more like a Tinder bio and assure you that if it was, their profile picture would be really, really hot.