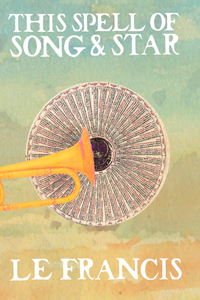 Poetry, chapbook, 32 pages, from Bottlecap Features.
This collection, from Washingtonian poet LE Francis, is a spellbook, a story, a journey from a coffee shop to the end of all things. These poems follow inspiration from flashpoint to synthesis. They describe creativity as a kind of fixer, a way to preserve a moment of time, while acting as a force of destruction & creation in the mind of the artist. This Spell of Song & Star seeks to tear down and rebuild the world outside of its pages.
The collection is written in three sections, phases focused on magic, music, and the passage of the seasons in the scenic pacific northwest; & at the heart of it all is a simple glance.
LE Francis is a writer, visual artist, & musician living in the pacific northwest. She is a former arts journalist & the current fiction editor of Sage Cigarettes Magazine. She is a co-host & editor of the Ghost in the Magazine podcast. Find her online at nocturnical.com.