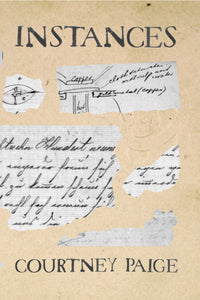 Prose poetry, chapbook, 20 pages, from Bottlecap Features.
"Instances is a collection of non-traditional poetry highlighting the best and worst parts of my life. Mental illness has blocked most of my life from memory, and aphantasia makes it impossible to recall instances in pictures. I can only remember my life in words. Instances contains the pages of my life through blurry years and constant change. This is my attempt at regaining my past, at regaining both childhood and future.

This collection may seem scattered and the pieces only have connection in that they are mine. You may notice more instances being recent and less from my childhood. I write them as they come to me. Each instance has been placed in a format that felt fitting to the subject. I often write as the thoughts form, which is why you may see strange lines and cutoffs. I tend to exaggerate the mundane, to some. Each stylistic choice is deliberate."

—Courtney Paige
Courtney Paige is currently a university student studying English Education. She hopes to become an English professor should the opportunity arise. She has one poetry publication, "The Earth and Her Parents", in Diamond Line Magazine. Instances is her first published book of any kind. Courtney spends her time in class, at work in a sandwich shop, at a coffee place with an iced London Fog, or in bed asleep. She lives in a little apartment with one of her best friends, a cat with an attitude, and two recently adopted gerbils named Sam and Dean. Courtney used to dance and sing in the choir, but as long as she has literature and the sky, she is happy.