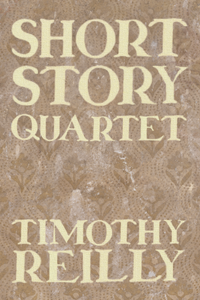 Prose, chapbook, 40 pages, from Bottlecap Features.
Short Story Quartet begins with a short-short story involving a Kraft Caramels box-top, two young brothers, and a 1950s television show about space travel. Two of the other stories also deal with astronomy—and physics and metaphysics. Since the word "quartet" denotes a musical composition (as well as a number), I have included one story concerning a tubist, his tuba, and a mildly deranged professor of music.

A certain amount of nostalgia is present in Short Story Quartet. I realize that in current popular usage, nostalgia is often accompanied by rolled eyeballs. But nostalgia is a natural human faculty, and if overt sentimentalism is factored out, nostalgia can actually be beneficial to our mental and spiritual health.

I firmly believe in Wordsworth's notion that "The Child is Father of the Man."
Timothy Reilly had been a professional tubist (including a stint with the Teatro Regio of Turin, Italy) until around 1980, when a condition called "Embouchure Dystonia" ended his music career. He gratefully retired from substitute teaching in 2014. Three-times nominated for a Pushcart Prize, he has published in Zone 3, The Main Street Rag, Fictive Dream, Superstition Review, and many other journals. He lives in Southern California with his wife, Jo-Anne Cappeluti: a poet and scholar.