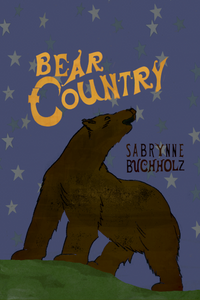 Poetry, chapbook, 36 pages, from Bottlecap Features.
Bear Country is an odyssey across the plains of the past and the world as it was built by those you used to know. So accustomed to looking at the world and the sea and the sky with others to tell you what they see, looking again in a way all your own after all the final moments you shared together is a different kind of voyage. The world you built together yesterday is familiar and welcoming, but is anyone still there now aside from you?

Sabrynne Buchholz's debut chapbook notes the struggle between holding onto something lost and moving on and forward with something new, and finding balance between appreciating old memories and feeling ready to make new ones. Each poem marks a step along the path toward what's to come, as well as a gentle farewell to what's already been.
Sabrynne Buchholz is a writer, artist, musician, tea-enthusiast, and avid bug friend. Sabrynne is at home in Colorado, where she thoroughly enjoys the snowy winter weather and opportunities to create. She graduated from Colorado State University with a bachelor's degree in Interdisciplinary Liberal Arts and a minor in English. Through academic exploration, she gained editorial and research experience and it was here that she discovered a love of poetry. Sabrynne has taken to using poetry as a means of investigating and learning about the world she inhabits. Her work has been published in print and online nationally and internationally, appearing in the Greyrock Review, Bloom Magazine, Studio OUCH! Gazette, and others.