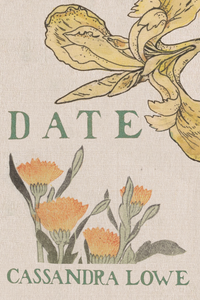 Poetry, chapbook, 24 pages, from Bottlecap Features.
These are a series of poems I wrote over the last 9 years of my life. They highlight the relationships that I've been lucky and, sometimes not so lucky, to explore. These are the people I've dated.

My first date, which spanned 7 years, is chronicled the least. We opened our relationship up after 4 years of monogamy. In retrospect, to open a relationship which was started as a closed one was a bit too much for my heart.

After years of navigating the confusing jabs and strokes of love and lust I did the hardest thing I've yet to do in my life thus far- end my comfortable and safe long-term companionship. The aftermath can be felt in the poems where I was only dating myself.
Cassandra Lowe is comprised of big feels inside of a little flesh suit. She is a film and television actor with a degree in Musical Theatre from Point Park University. She writes for fun, or when her emotion is so heavy she has to drop it in a note on her phone.