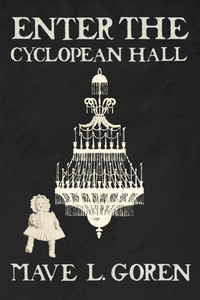 Prose, chapbook, 24 pages, from Bottlecap Features.
A collection of three stories. Sardonic, scary and unabashedly queer. Enter the Cyclopean Hall takes you everywhere from the mind of a metalhead, to a creepy tea shop on a Massachusetts highway, to a meditation on hustle culture and performance-enhancing drugs. Expect irreverence, gothic atmospheres, and piercing satire.

These three stories were written over the course of half a year, starting with "Tranniversary" written in November 2019. The most recent story is Off to Never Never Land, which was written for the author's writing class. This is the first chapbook from the author, and she hopes there will be more to follow.
A native Brooklynite, prolific electronic musician and radio DJ, Mave Goren is a tenebrous trans woman. In addition to writing, she makes music under the name Poppet (and many other aliases). She also has a weekly web radio show on Radio Free Brooklyn, called Evil Lurks.