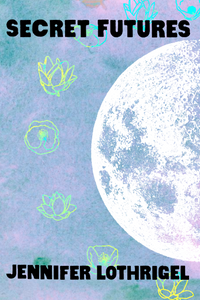 Poetry, chapbook, 36 pages, from Bottlecap Features.
Secret Futures is a chapbook which contains original poems and photographs by Jennifer Lothrigel, along with additional ephemera including found photographs and the author's astrology chart. The images and text are in dialogue with one another and take the reader on a journey that investigates and mends matriarchal patterns. On this journey, we weave through the terrains of nostalgia, forgiveness, letting go, reclaiming, and a sacred reverie for the way our family patterns are carried within us.

The photographs taken by the author explore the same themes while adding additional contemplation regarding the reclaiming of one's own voice within the narrative of one's family lineage. The found photos are part of the author's collection. The chapbook offers a deep conversation between the author and reader on the nature of belonging and family ties.
Jennifer Lothrigel is a writer and artist located in the San Francisco bay area. She is the author of Pneuma (Liquid Light Press, 2018) and Wormhole Weaver (self published, 2022.) Her writing has also been published in Phoebe Journal, Arcturus, Dash Literary Journal, and Adanna Journal, amongst others. Her photographs have been exhibited in galleries and publications around the world and are included in private collections and institutions.