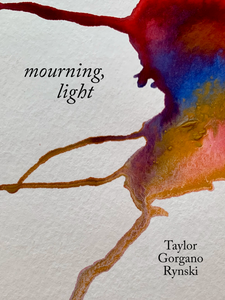 Poetry, chapbook, 24 pages, from Bottlecap Features.
mourning, light is a collection of messages to those who wouldn't answer if you called. it's all those thoughts you write down to be burned or only admit in dreams. it's the version of screaming into your pillow that rhymes. it's letting go of what matters to you the most. the pieces in mourning, light exist within the thick of grief; the essence of hope exists sparingly throughout. the title is inspired by the inevitable light that returns following a long night of bad dreams.
mourning, light is the debut chapbook of taylor gorgano rynski, and the cover is an original painting. she lives and studies in brooklyn, ny. previous works of hers have appeared in the online zine Before I Leave as well as Canvas & Cassette.