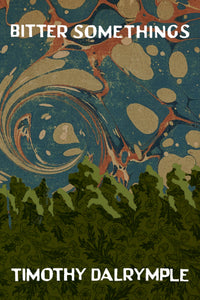 Poetry, chapbook, 40 pages, from Bottlecap Features.
This book is a collection of millennial musings and words scribbled in the margins of pandemics, stock market crashes, and other once-in-lifetime events. But in truth, this poetry collection accounts the search for love in a modern world of Tinder, Bumble, Hinge, and other one-word dating apps. Finding love and making friends through a screen is the new normal. The new normal is uncertain. The new normal is heartbreaking. The new normal kind of sucks.
Bitter Somethings is the first published work from Timothy Dalrymple and this particular collection includes works from the past five years. Bitter Somethings delves into the coming-of-age sentiments of aspirational youths struggling for relevance in a constantly demanding social media world. Growing up amidst the rise of glamorous technology, the "person" in personal devices starts to feel forgotten.
In our world, where everything now feels derivative, growing into a unique and beautiful person seems like a pipe dream. This collection is for everyone who has felt isolated and alone. These words are for every small town kid hoping to break out. Let these small glimpses of hope and fear light the road that feels the darkest. Know that, in a night sky filled with light, you are the light.
Timothy Dalrymple was born and raised in Clarkston, Michigan: a hub of cultural and intellectual diversity. That is, assuming that by diversity you mean three different Mac N' Cheese restaurants. Dalrymple spent his college years studying Environmental Science and Law. Writing was always a private passion throughout his schooling years. But inspired by great poets and even greater friends, Dalrymple's work has now come to a published format for readers everywhere.