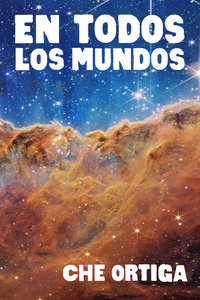 Poetry, chapbook, 36 pages, from Bottlecap Features.
En Todos Los Mundos explores human experience through love, grief, living with trauma, healing, and the essence of what we all are after. That which binds us together as living beings. It reckons with the profound need for understanding and self-love in all the worlds we find ourselves navigating through.

In their debut poetry collection, Che Ortiga brings vivid imagery to what it is to crush out on a new love, build worlds, lose everything, and come back to oneself again. It examines the interactive cycles of how to know and love oneself, messes and all. By weaving nature's influence on emergent growth and self-reflection, this collection encourages an awakening of the deep collective memory that we are all connected by the same threads. That there is profound healing in stillness and composting. It beckons compassion for the places inside where we are growing from and the places we can go when we integrate our shadow.
Che Ortiga (he/they) is a trans, latinx, queer adoptee, who has lived many lives within the auspices of one. He has been writing poetry in composition books since he was 14 and is elated to invite you into his worlds. They care deeply for building a safe world for trans kids and perform in the Portland based boyband TurnBack Boyz. Che also writes queer country music, works on a queer history podcast, and enjoys singing karaoke to their rescue bunnies in Oakland, CA.