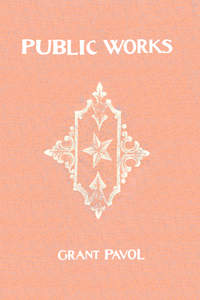 Poetry, chapbook, 24 pages, from Bottlecap Features.
In his first published work, Grant Pavol explores the position of the subject in modernity. Drawing heavily on the philosophy of Walter Benjamin, Simone Weil, and Julia Kristeva, as well as the poetics of Charles Olson and John Ashbery, Pavol seeks to explore the post-internet psyche through surreal and often darkly humorous verse.

"The real project of the book is to adapt mid century American poetic ideas from writers like Olson, Ashbery, and Berryman to the post internet era. Our moment is so fast and packed with stimulus that we are forced to act as somewhat fractured personal and political subjects in order to simply keep up. These poems aim to provide space for the reader to reconsolidate their dispersed attentions and recognize the eternal continuity of one being to another." - Grant Pavol

Pavol's poems aim to create a sort of meaningful emptiness akin to the overarching projects of the Dada or Fluxus collectives, artistic groups which saw a sort of optimistic pessimism as the only path of progress. To move to a fruitful future, we must recognize the fruitlessness of the present; however, if we did so without a sense of love, compassion, and humor, we would be just as lost as we are now. These poems thus seek to critique the dissociations of the present through a wary yet sentimental embrace of what is yet to come.
Grant Pavol is a musician and writer. Born in Philadelphia to a family of writers and artists, Grant began his creative life at a young age. He became involved with the Philadelphia experimental music scene at the age of 15, and has been organizing and playing shows ever since. He has released several projects through Accidental Popstar Records, including his latest effort, an EP entitled "Reflections." His writing draws heavily on 20th century mystic philosophy by writers like Walter Benjamin and Simone Weil, but channels it into a contemporary approach inspired in equal parts by John Ashbery and Tim Hecker. He is currently completing his undergraduate studies at the University of Pennsylvania.