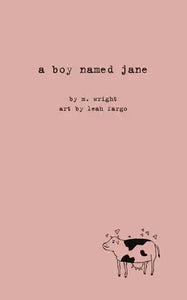 Poetry, paperback, 84 pages, illustrated, from Bottlecap Press.
This new edition of M. Wright's a boy named jane is a collaborative re-release with artworks by Minneapolis artist Leah Fargo. Leah teamed with poet M. Wright to create art works that elevate each poem in a boy named jane. This re-release calls upon the reader to consider the narrative collection from both a linguistic and visual perspective with the juxtaposition of each of the 39 paintings and their correlating poems.

a boy named jane is a book of narrative poetry that follows the coming-of-age of an adolescent as he navigates crisis. In these poems, M. Wright's musings on purpose, death, love, the existential, and the body oscillate from fear to excitement to contentedness to find a kind of solace in the unknowable.

"I am glad that M. Wright has written a chapbook that focuses heavily on cows and organic material. I used to live beside a cow pasture. Whenever I would pass beside it and see cows walking around, eating, etc., I would always think to myself that the cows seemed mysterious and beautiful. The investigations of life, death, process, and organism contained in Wright's chapbook are earnest and emotional. This is my favorite passage from a boy named jane: 'in my dream / you were a cow / and you were me.'"
-Luis Neer

"It isn't rare for me to use words as fodder for generating imagery—but I'd never read words which hit me quite like those in a boy named jane. The simplicity of language is deceptive, as the more time you spend with each phrase, the deeper you can tread down a rabbit hole of existential musings (in the disguise of poetry about cows.) Wright's novel use of language inspired experimental uses of paint which attempt to interpret the heart of each poem as I perceived it. To spend time churning these words into paintings was a growth experiment in my own artistic process and a reflection of the exceptional thematic content of a boy named jane."
-Leah Fargo, artist

M. Wright is the author of Dear Dementia (Ghost City Press, 2017) and the winner of The Atlantis Award for poetry. His poems have recently appeared or are forthcoming in Glass Poetry Press, Squawk Back, Maudlin House, Ghost City Review, cahoodaloodaling, and Temenos Journal. More at: wrightm.com.