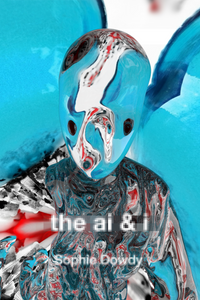 Poetry, chapbook, 24 pages, from Bottlecap Features.
What does it mean to soften into yourself? the ai & i is a chapbook-length poem that charts an attempt to find meaning amidst our techno-dystopian reality. It is a deeply personal mediation on identity that embodies the exploration and transcendence of perceived binaries, be they between nature and artifice, human and machine, futility and hope, or between genders. It strives towards a future that allows for complexity, and an escape from the unknown forces to which we are all beholden.

Inspired by Ian Cheng's animated short, "The Chalice Study", the ai & i explores cultural anxieties about technology and how they play into issues of identity, gender, consumption, and the relentless pursuit of knowledge. Lending agency to artificial intelligence, it seeks to disentangle it from the system in which it is deployed. the ai & i is a response to a world that is confusing and complex and often beyond comprehension.
Originally from London, Sophie Dowdy currently lives in New York. They are pursuing a PhD in Political Theory at CUNY's Graduate Center beginning in the fall, and are passionate about the ways in which art and literature can help us to envision and materialise a better future. They hope one day to be an optimist.