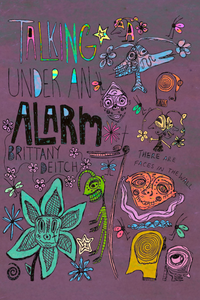 Poetry, chapbook, 20 pages, from Bottlecap Features.
Exploring relationships, anxiety, absurdism and meaning, the poems of Talking under an alarm read in a very 'human' way. The work uses surrealism to contemplate the limitations of language and the resulting implications. It navigates loneliness while accepting that not everything can be navigated through or explained, but then that feeling can at least be explained.

Deitch's poems are the story of 21 years of brain changes, and a brain that is still changing. It is full of spirit, philosophy, trauma, and silliness. It starts on relationships. The chapbook goes back and forth between two writing styles weaving together a feeling of being overtaken by one's insanity. Blending two voices and ultimately melting away at anything grounded in reality, the identity behind relationships feel silly by the end of the read.
Brittany Deitch expresses her creativity through a 'stream of consciousness' style of writing that borders both poetry and prose. As an undergraduate student at Temple University, she runs an independent media publication for the Philadelphia D.I.Y music scene called Ratpie Friends. She has been recently employed at Warner Music as a Global Marketing Intern. She enjoys house shows, friendship, community, Murakami novels, and cats. She is a writer and a friend. This is her first publication.